At West Knox Chiropractic, we take great pride in providing the finest chiropractic wellness care to our patients. Below is a sampling of the different chiropractic services we offer in our Farragut office.
---
Chiropractic Care

Deep Tissue Laser Therapy

Massage Therapy

Lifestyle Advice

Orthotics

Nutritional Assessment

Spinal & Postural Screenings

Modalities
---
Chiropractic Care
We provide advanced spinal correction utilizing "state of the art" chiropractic techniques. Never in the history of chiropractic have we been able to provide the level of help and expertise that now exists. These newer correction methods are even safer, more comfortable and more effective than ever before. As a Doctor of Chiropractic, Dr. Alan Lensgraf has over 36 years of training and experience in spinal adjustment.
---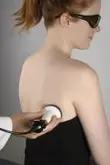 Deep Tissue Laser Therapy
This safe, effective, fast-acting, non-invasive treatment effectively treats pain and inflammation associated with a wide variety of both chronic and acute conditions. Laser therapy increases micro-circulation to damaged tissue, helping speed recovery. Laser therapy is clinically proven to reduce pain and inflammation and is endorsed by the World Health Organization, and the International Association for the Study of Pain.
---


Massage Therapy
Massage therapy is an effective treatment for reducing stress, pain and muscle tension in the body. It can be beneficial to help promote healing of tissues by increasing blood flow to the muscles and reduce muscle spasms and trigger points within the body helping to restore the body.
---

Lifestyle Advice
We often find it helpful to "coach" our patients on certain activities they should avoid or do differently to avoid aggravating their particular health challenge. Our goal is to help every patient achieve a fulfilling and happy lifestyle full of the activities they enjoy most. We recognize that each our patient is a whole person, and help them reach true health and wellness is a collaborate effort between our professionals and our patients.
---

Nutritional Assessment
We provide specific recommendations on nutritional supplements and healthy food choices to enhance our patient´s return to optimal health. Do you know which supplements and vitamins are good for you? Dr. Lensgraf can provide a structured nutritional program based on your individual needs.
---
Spinal & Postural Screenings
Posture and spinal screenings can reveal important health information and unlock the door to improved health and well-being. We provide screenings at area malls, community events, health fairs and places of employment. Contact us today to arrange a screening at your event or workplace.
---

Modalities
To complement and enhance the healing effects of Dr. Lensgraf's specific Chiropractic manipulative treatment, we at West Knox Chiropractic also provide the following modalities:
Ultrasound
Mechanical Traction
Interferential Electrical Stimulation
Cryotherapy Moist Heat
Work Hardening Rehabilitation Program
Deep Tissue Laser Therapy
Orthotics